Dual Lane Inflatable Slip and Slide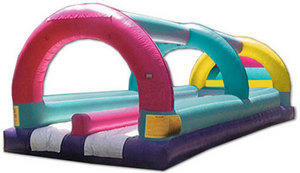 Setup Area: 20x35x15
Actual Size: 15x30x10
Recommended Monitors: 1
Outlets: 1
Looking forward to having a bash this summer? For the ultimate water themed party this summer all you need is an inflatable slip and slide delivered to your yard. Of the inflatable rentals the water slide is surely the most exciting one. With a water slide installed in your outdoor party venue the little ones are going to have a blissful time. If it is water fun you are seeking then make sure that you rent an inflatable slip and slide from the most popular party rental company in and around Atlanta. A waterslide rental would allow you to cool off the heat this summer. So, if you are planning an event with children you should ideally incorporate some water fun in your party by renting an inflatable slip and slide from us.

This colourful slip and slide comes with 2 lanes which makes for more playing space. It's not very different from the slip and slides of our childhood days, the only difference being that it is inflatable. Being inflatable it will never hurt the kids when they run, then jump on it. A water slide is one of the most common element of any water themed party. You can add a splash of life to your party by renting an inflatable slip and slide for the children to play on. When there is a slip and slide at your party, you can be rest assured that all the children of your neighbourhood are going to have a blast all day long. If you are planning your child's next birthday then give the little ones a super exciting time by installing a bouncing slip and slide in your front porch. You don't have to worry about attending to your kid all the time since they will be real busy rolling and jumping down the slide. The inflatable water slide from Jump 2 It Party Rentals requires a setup area of 20x40x15 which means that it can accommodate all your kid's friends. Regardless of the kind of outdoor event you are planning, you can always choose to make it even more exciting by renting an inflatable slide combo.

By spending less than $250 you can be sure to make all the kids of your neighbourhood happy. You can have your own share of fun while the little ones engage in their frolic. The inbuilt sprinklers would more than double the fun of jumping on a dry inflatable. One of the most popular inflatable party rentals of the summer season the slip and slide bouncer is a must have for any outdoor social gathering. It can be used in birthday parties, school events, office picnics, church events, teenage parties or just a summer evening get together. Jump 2 It Party Rentals offers its rental services in Union City, Jonesboro, Peachtree City, Fayetteville, Tyrone, Newnan, Sharpsburg, Riverdale, Brooks, Senoia, Palmetto and the rest of the metro area of Atlanta. If you are looking for a reliable and cost effective party rental company in Atlanta make sure to browse through the vast range of party items on our website.