Monster Balloon Pop - Tub Game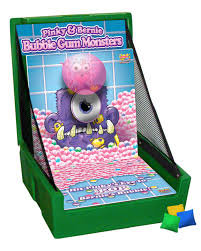 Setup Area: 2'x2'x2'
Actual Size: 2'x2'x2'
Introducing the Monster Balloon Pop - Tub Game, a thrilling and entertaining activity that guarantees endless fun for children and adults alike.
Get ready to embark on a popping adventure with our innovative tub game. The set includes a sturdy inflatable tub with a vibrant monster-themed design, making it visually appealing and engaging for players of all ages.
The objective of the game is simple yet exhilarating - smash the monster with a bean bag and watch his balloo pop. .
The Monster Balloon Pop - Tub Game is not only entertaining but also helps develop essential skills. It enhances hand-eye coordination, fine motor skills, and concentration as players aim to pop the balloons accurately.
Ideal for birthday parties, family gatherings, or even a rainy day at home, this game guarantees laughter and excitement. It can be enjoyed by individuals or played in teams, adding a competitive edge to the experience.
So, why wait? Rent the Monster Balloon Pop Game to your next event and create unforgettable memories filled with joy, surprises, and laughter. Get ready to pop your way to victory and experience the thrill of this sensational game!